FLEXIBLE FINISHING, SANDING AND DEBURRING SYSTEMS
The Fladder deburring and finishing system uses an new method for deburring which is fundamentally different to traditional methods. The abrasive tool in the Fladder deburring system is a flexible tool with a number of slats or strips of abrasive material which rub tightly against the part, closely following it contours.
The Fladder deburring system:
Deburrs parts with contours
Smooths Sharp edges without loss of definition
Deburrs parts with protective foil
Is ideal for brushing, cleaning, de-slagging, edge preparation, weld dressing, surface finishing and sanding.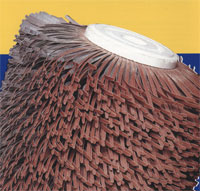 All Fladder finishing machines are the result of intensive product development which focuses on the durability, efficiency and ease of use demanded by all manufacturers. The design emphasis is on making strong and compact machine with the minimum components necessary. Whilst incorporating sophisticated technology, the machines are easy to use resulting in reduced error and wastage rates.
The machines are built on a self supporting body frame onto which the other components are mounted. Where appropriate all components have been powder-coated to ensure a durable surface finish. The machine dimensions are as compact as possible to keep floor space requirements to a minimum. The Fladder Gyro's 1300mm wide vacuum mat and automatic controls make it ideal for placing in an automated production line.
Oscillating Method – In the world of finishing technologies the Fladder system is in a class of it's own. The strong, compact head is fitted with six spindles, mounted in pairs, which alternately rotate clockwise and anti-clockwise. The gearing of the spindles varies between the pairs to ensure uniform finishing of all surfaces and uniform wear on the tools.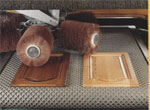 Free tests and demonstrations of the quality, performance and results of the Fladder deburring system can be arranged using customer components. In addition to deburring, Fladder Deburring Machines are ideal for brushing, cleaning, de-slagging, edge preparation, weld dressing and surface finishing. Contact us for more details